2019 WAJ Women's Caucus Retreat & Seminar
Registration
Event:
Thu, September 12, 2019 to
Fri, September 13, 2019
Registration for this event has expired. Contact WAJ at Cell (608) 206-0406 for assistance, or register onsite at Sundara Spa, 920 Canyon Rd, Wisconsin Dells, WI 53965
Questions?
Questions? Contact:
Wisconsin Association for Justice
14 W. Mifflin St., #207
Madison, WI 53703

(608) 210-3390
bryan@wisjustice.org
Details
Offering 4.5 Credit Hours
Wisconsin: 4.5 CLE Credits (Pending Approval)
---
Schedule:
Thursday, September 12th
5:00 PM Registration / Check-in
5:30 PM WAJ Women's Caucus Business Meeting
6:30 PM Group Entertainment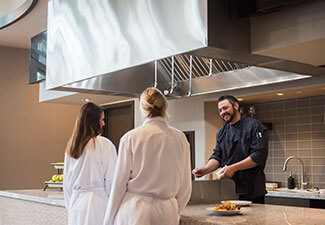 Cooking Demonstration with the Sundara Chef, Networking and Reception
7:30 PM Dinner and Networking
Dinner will be on the Savana, the back patio directly off of Nava, providing a tranquil space for outdoor dining, enjoying a drink with friends while watching the wildlife as well as stargazing and reconnecting around one of the multiple fire pits at night
.
Dinner Special Guest Speaker:
Treasurer Sarah Godlewski was elected in November after leading the effort to save our State Treasurer's office back in April. After a career of working in business and finance, she's ready and excited to roll up her sleeves and rebuild this office for the 21st century. Sarah ran on a platform of fiscal accountability, investing in Wisconsin's future, and advocating for the financial health of all Wisconsinites. As our new State Treasurer, she will work with the Legislature and Governor-elect to rebuild the office in that same spirit.
8:30 PM Late Night Networking
Friday, September 13th
7:30 AM Registration is Open
7:30 AM to 8:30 AM Student Breakfast and Roundtable Discussions.
Law Student Breakfast Panel Includes: Kristen S. Scheuerman, Amy Menzel, Jackie Nuckels, Nicole Marklein Bacher, Grace Kulkoski, Heather Nelson, Leah M. Michaelson-Link and Whitney A. Johnson
7:30 AM to 8:30 AM General Attendee Breakfast and Networking
8:30 AM - Welcome and Seminar Opening
Kristen S. Scheuerman​, Women's Caucus Chair
Kristen joined the Herrling Clark Law Firm in 2011 as an Associate Attorney, after clerking with the firm for over a year. In 2016, she was named a Partner/Shareholder. Kristen's practice is primarily devoted to personal injury litigation, although she also handles municipal prosecution for a local municipality.
Originally from Appleton, Wisconsin, Kristen graduated from Appleton East High School and received her Bachelor of Arts from Lawrence University. After working in corporate America for just over five years, Kristen enrolled at Marquette University Law School and earned her Juris Doctorate in 2010.
8:30 AM to 9:30 am: Special Guest Speaker
Women in the Law: Shattering the Glass Ceiling
Justice Rebecca Frank Dallet
Justice Rebecca Frank Dallet was elected to the Wisconsin Supreme Court on April 3, 2018 and took office Aug. 1, 2018. Before joining the Supreme Court, she was elected as a judge to the Milwaukee County Circuit Court in 2008 and was re-elected in 2014. She served as a member of the Wisconsin Judicial Conference's Criminal Jury Instruction Committee, as an associate dean of the Wisconsin Judicial College, on the board of the Association of Women Lawyers, and is on the faculty of the National Judicial Institute on Domestic Violence. She is a member of the board of directors to the National Board of Trial Advocacy.
Prior to being elected to the judiciary, Justice Dallet was an assistant district attorney in Milwaukee County from 1996 to 1999 and again from 2002 to 2007. She was appointed the first female presiding court commissioner for Milwaukee County in 2007, serving in that role until 2008. Justice Dallet was a special assistant U.S. Attorney for the Eastern District of Wisconsin from 1999 to 2002 and taught Trial Advocacy as an adjunct law professor at Marquette University Law School from 2005 to 2008. Immediately after law school, she clerked for U.S. Magistrate Judge Aaron Goodstein in the Eastern District of Wisconsin.
A native of Cleveland, Ohio, Justice Dallet received her B.A. summa cum laude with honors from The Ohio State University in 1991 and her J.D. summa cum laude from Case Western Reserve University School of Law in 1994, where she was an editor of law review.
Justice Dallet has been an active volunteer in her community for organizations such as the Milwaukee Jewish Federation, COA Youth and Family Centers and as a youth leader for Congregation Shalom in Fox Point.
Justice Dallet and her husband, Brad, have three children
Break 9:30 to 9:45 AM
9:45 AM to 11:45 AM: Dealing With Difficult Situations
Professor Andrea Kupfer Schneider
Director, Dispute Resolution Program
Marquette University Law School
Synopsis: Effective negotiators have more than tool in their toolbox when things go sideways. Whether it is the situation or the negotiation counterpart or the issue itself, we all have the potential to lose our cool. This interactive session will outline strategies for diagnosing the problem, assessing the possible responses, and building a tactic response repertoire. Participants will have the opportunity to practice this in small groups and hone their skills.
Andrea Schneider is a Professor of Law at Marquette University Law School where she has taught Dispute Resolution, Negotiation, Ethics, and International Conflict Resolution for over 20 years. She is the Director of Marquette's nationally-ranked dispute resolution program. She frequently publishes law review articles and book chapters on negotiation, gender, international conflict and dispute systems design and has co-authored several leading legal textbooks on ADR, Negotiation and Mediation. She is a founding editor of Indisputably, the blog for ADR law faculty and started the Dispute Resolution Works-in-Progress Annual Conference in 2007. She was named 2009 Woman of the Year by the Wisconsin Law Journal and, in 2016, gave her first Tedx talk entitled Women Don't Negotiate and Other Similar Nonsense. She was named the 2017 recipient of the ABA Section of Dispute Resolution Award for Outstanding Scholarly Work. Her most recent book is Smart & Savvy: Negotiation Strategies in Academia. Andrea regularly gives negotiation trainings for businesses and universities around the world. She received her A.B. cum laude from Princeton University and her J.D. cum laude from Harvard Law School.
11:45 AM - 12:15 PM
Andrea Hoeschen, Carlson Dash
Leading in the Age of #MeToo: The Unique Challenges faced by Women of Influence
Synopsis: We will examine the unique challenges that sexual harassment presents to women leaders who are potentially both victims and workplace decision-makers, and how to balance the demands of advancement and business development with the legal and ethical responsibility to proactively address sexual harassment in the workplace.
Andrea F. Hoeschen Bio: Andrea is an attorney in the Milwaukee office of Carlson Dash. She has more than 23 years of experience practicing labor and employment law. Her experience involves matters arising under Title VII, the ADA, the FMLA, ERISA, the NLRA, and a range of other state and federal employment laws. Andrea's individual employee representation focuses on representing executives and professionals – primarily women – in the negotiation of compensation packages, employment contracts, non-compete agreements, and severance arrangements. She also has litigation experience in real estate, professional liability and fiduciary liability issues, as well as Chapter 11 bankruptcy cases involving labor and employment claims. Andrea is admitted to practice in all state and federal courts in Wisconsin, Iowa*, and Louisiana*, as well as the Fifth, Sixth Seventh and Eighth Circuit Courts of Appeal and the Eastern District of Michigan. For several years, Andrea chaired the Wisconsin Lawyers Assistance Program Committee (WisLAP). Andrea is a graduate of Tulane Law School, where she was Order of Barristers. *inactive
12:15 to 1:15 PM: Networking Lunch
---
SPECIAL FOR LAW STUDENTS
Are You a Current Law Student?
Cost: FREE for current law students! WAJ will cover your seminar registration fee AND lodging at the Sundara Inn and Spa.
Students - Be sure to join us for our Student Breakfast on Friday!
All students are encouraged to join us for breakfast on Friday morning before the start of the seminar, featuring a short presentation with a few of our female attorney members. Be sure to complete the mentoring forms and WAJ will assign you a member mentor.
Location
Seminar Location & Lodging Information:
NEW IN 2019
Thursday and Friday Events/Seminar Sessions will be held at the Sundara Inn & Spa: 920 Canyon Rd, Wisconsin Dells, WI 53965
Room Block Deadline: August 12, 2019. Attendees can still receive our group rate based on availability after this date.
WAJ has reserved a block of rooms at Sundara Inn and Spa and Glacier Canyon Lodge, located at the Wilderness Resort in the Wisconsin Dells. Several rooming options are available.
Sundara Inn & Spa, contact Nicole Loveluck at nloveluck@sundaraspa.com or (608)253-9200 or 1-888-735-8181 to reserve your room and mention that you are attending the WI Association for Justice Women's Caucus Seminar. To learn more about the facility and spa services, visit www.sundaraspa.com.
Sundara 9/12/2019 Lodging Rates:
Premier: $229
Exclusive: $269
Plush: $329
Luxury: $429 ($40 per person)
Woodland Retreat: $499
Woodland Suite: $229
Glacier Canyon Lodge is part of the Wilderness Resort (a short drive to conference center at Sundara). Call (800) 867-9453 to make your reservations. Our Block is under: Wisconsin Association for Justice - Women's Caucus (Leader #542668). For more information on the facility, visit www.glaciercanyonlodge.com.
Glacier Canyon Room Rates (9/12/2019):
Standard Room: $99.99
2 Bedroom Deluxe: $139.99
Discounted Spa Services at Sundara
All seminar participants are invited to enjoy any spa service for 15% off the listed price for services booked for use on Thursday, Sept. 13th. Guests may arrive early or stay later for scheduled spa appointments. To make arrangements, contact Alyssa Mullin at (888) 735-8181 or amullin@sundaraspa.com.
Additional Information on Lodging Options:
Sundara Inn & Spa (Seminar / meeting location)
Guests at the Spa Inn receive a 15% discount off treatments for services booked for Thursday, Sept 12 use.
Check in is at 4:00 pm - Check out at 11:00 am.
Spa Breakfast included with room
Parking and wireless internet access is complimentary
Overnight guests enjoy unlimited access to the entire facility
$20 nightly resort fee; $40 additional person fee; 12.25% tax
Sundara has a no pet policy.
Sundara's entire 26-acres are smoke-free.
One night's deposit is due at the time of reservation for each room.
Glacier Canyon Lodge (a short drive to conference center at Sundara):
One night's deposit is due at the time of reservation for each room.
Check in is at 4:00 pm - Check out at 11:00 am.
Credit Card Verification & Photo ID required at check-in.
All rooms are non-smoking.
The Resort has a no pet policy.
All guest rooms are subject to a $12.95 per night Resort Fee
All guest rooms are subject to a 12.25% room tax
Room rates are quoted for up to 4 people in a standard room, each additional person beyond 4 will result in a charge up to $20 per person/per night
Reservations canceled 72-hours prior to the arrival date will be charged a $30 fee. Cancellations within 72 hours pay for the entire room rate. Condos, Cabins & Villas are subject to a 14-day cancellation policy with a $30 cancellation fee.
---
Sponsor / Expo Information
Cancellation Policy
Cancellations, Substitutions and Refunds
Attendee substitutions may be made at any time and are encouraged when the original registrant cannot attend. If you must cancel or reschedule, please notify us at least three (3) business days (or 72 hours) prior to the program to receive a refund less a $15 service charge. Cancellations made less than 3 business days prior to the program will incur the full registration cost.
At the Door Registrations will incur a $20 late fee.